a
More than 70 Years of Providing

Tax and Accounting Services

Since our founding more than 70 years ago, it has always been the mission of Holt Tax Inc. to be the most preferred and trusted provider of tax and accounting services in the area. We do this by exceeding the expectations of our clients. We have the experience and expertise to efficiently handle the tax and accounting needs of clients from all industries.
The story of how Holt Tax Inc. got started: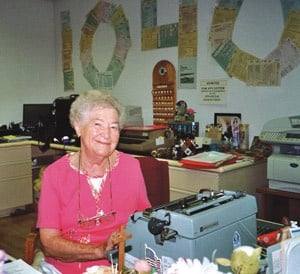 Ethel Holt - known by generations of taxpayers as "The Nice Tax Lady" - has been preparing tax returns on the same manual typewriter and adding machine, and greeting her clients with the same friendly smile, for 70 years.
Ethel's business started with 10 or so tax returns that she prepared on the dining room table in her home. The business grew and eventually moved from Ethel's home to its current location in Overland Park, KS.
Holt Tax Inc. has continued to grow and change as new technology becomes available, but we strive to maintain the family atmosphere and personal service that Ethel began so many years ago.